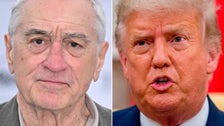 The Oscar-winning actor ― who is no stranger to shredding the former president — at first slammed Trump as "stupid," but without saying the former president's name.
Later, though, he couldn't resist criticizing the ex-POTUS directly.
De Niro first called out Trump when talking about his character in the film, the cattleman William Hale, who instigated the Osage Nation murders in the 1920s after oil deposits were found on the land.
"I don't understand a lot about my character," admitted De Niro. "Part of him is sincere. The other part, where he's betraying, there's a feeling of entitlement."
"It's the banality of evil. It's the thing we have to watch out for. And we see it today, of course. We all know who I'm going to talk about. but I won't say the name," the actor continued, clearly alluding to Trump.
"Because that guy is stupid," De Niro added about the former president. "Imagine if you're smart. Even Hale was smart in many ways."
Lily Gladstone, who plays Osage tribe member Mollie Burkhart in the movie, noted how members of the Osage still attended Hale's funeral. They "believed until the day he died, and after, that he was their friend, that he wasn't guilty of what he was charged of," she said.
De Niro's comments come from the 24:45 point here:
"I mean, look with Trump," responded De Niro, going back on his moments-old promise not to say the twice-impeached former president's name.
"You said it," Scorsese ribbed him.
"I hate to say it, I hate to say it," De Niro continued. "But we see what that is and there are people who think that could do a good job. Imagine that. How insane that is. That's all I'll say."
Ahead of the 2016 election, he famously blasted Trump with multiple insults in a "Get Out The Vote" commercial, calling him "blatantly stupid, "a punk," "a dog," "a pig," a con" and a "bullshit artist."
De Niro also fantasized about punching Trump in the face.

Credit: Source link