As expected, Republican Nebraska Gov. Jim Pillen signed a bill Monday that both limits gender-affirming care for young people and outlaws abortion at 12 weeks of pregnancy.
The abortion ban goes into effect immediately, and the restrictions on transgender health care for people under age 19 take effect Oct. 1. Unlike in most states, Nebraska law considers everyone in that age group to be a minor.
"Today is a historic day in the State of Nebraska. It is a day where we are standing up and protecting our kids so that they can have a better and brighter future," Pillen proclaimed in a statement, calling the bill's passage "the most significant win for social conservatives in a generation."
The bill as originally written focused on prohibiting transgender people under 19 from having any gender confirmation surgeries. Though Republican lawmakers and conservative media have been raising alarms about such surgeries on minors, they are extremely uncommon. The bill also gives the state's chief medical officer — who is neither an elected official nor a specialist in transgender health care ― the power to set regulations on the use of any puberty blockers or hormone treatments for that age group.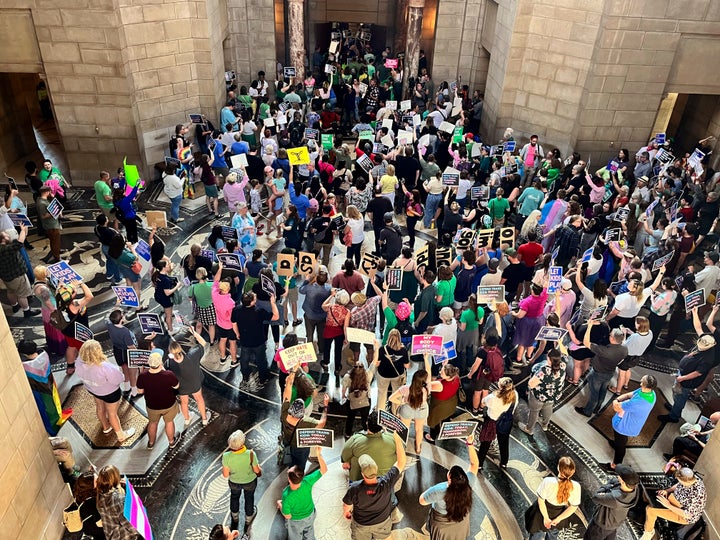 But after an attempt at a six-week abortion ban failed in the legislature, Republicans added an amendment to the transgender health care bill banning abortion at 12 weeks ― infuriating Democrats who slammed it as an abuse of the legislative process.
At Friday's final debate on the matter, opponents of the abortion ban accused its supporters of quickly tacking on the amendment without a proper hearing and violating rules about combining unrelated matters onto one bill.
"The reason the abortion part was added was because the transgender part could not pass without it … and clearly the abortion bill couldn't pass without the trans bill, because we had to bring it back to life. It's a zombie bill," state Sen. John Cavanaugh (D) said during Friday's debate.
State Sen. Kathleen Kauth, the bill's author, argued in a statement Monday that the amendment was germane because it it's "all about protecting children."
Democrats also raised concern about the power the bill gives to the state's chief medical officer, who is a political appointee.
"The CMO being able to be delegated the authority to create rules and regulations pertaining to how individuals access care is an absolute unlawful, unconstitutional delegation of our authority as a legislature," state Sen. George Duncan (D) argued Friday.
Opponents of the bill have also pointed out the more obvious concerns: that gender-affirming hormone treatments for youth significantly lower their high risk of depression, suicide and other mental health problems; and that banning abortion at 12 weeks is not enough time for many patients to seek care, especially as appointment wait times have increased around the country in the wake of Roe v. Wade falling.
But some of the bill's supporters said Friday they wish the abortion ban could have been more restrictive.
"Many of us feel that the six-week 'heartbeat' bill was the answer," state Sen. John Lowe (R) said during debate. "We're giving up six weeks as a compromise."
Credit: Source link