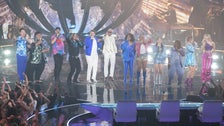 Iam Tongi won "American Idol" in the live final on Sunday, affirming the judges' high praise at the audition months earlier.
After defeating runner-up Megan Danielle and third-place finisher Colin Stough in an online vote, Tongi expressed his gratitude on Instagram.
"Thank you everyone for voting! Love all you guys! Thank you so much, yessah blessa never stressa," wrote Tongi, an 18-year-old high school student who grew up on Oahu, Hawaii, but moved to the Seattle area because he and his family got "priced out of paradise," he said earlier.
In the finale, Tongi performed his original song "I'll Be Seeing You," dedicated to his father, who died months before his audition.
It was at the audition that Tongi gave notice that he would be a contender with his straightforward, soulful delivery.
He sang James Blunt's "Monsters" for his father, drawing waterworks and high praise from judges Katy Perry, Lionel Richie and Luke Bryan. The clip has since been seen more than 16 million times.
Bryan told him at the time to "have fun in this whole thing," appearing to sense the teen was in for a successful run.
Tongi said an encore of "Monsters" with Blunt at the finale. It was the perfect bookend during a victorious finish.

Credit: Source link