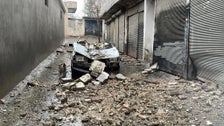 As daylight settled over cities and refugee camps housing thousands of Syrians, rescue workers were combing through the rubble as international aid groups and countries planned to send resources. Photos showed a historic mosque in pieces after the quake and there were reports from local media that fires had broken out in some regions from damaged gas lines.
The U.S. Geological Survey added that many buildings in the parts of Turkey near the quake's epicenter were made of brick and concrete, making many towns "extremely vulnerable" to earthquakes.
The Syrian American Medical Society said a hospital in the country's Idlib province had been damaged in the temblors and had to be evacuated. Tremors were felt throughout the Levant, including in Lebanon and Israel, and the region was hit with several powerful aftershocks.
The U.S. pledged to provide "any and all" assistance needed, but photos and videos released Monday morning portend a long, slow recovery effort that spans throughout Turkey and beyond.
Credit: Source link