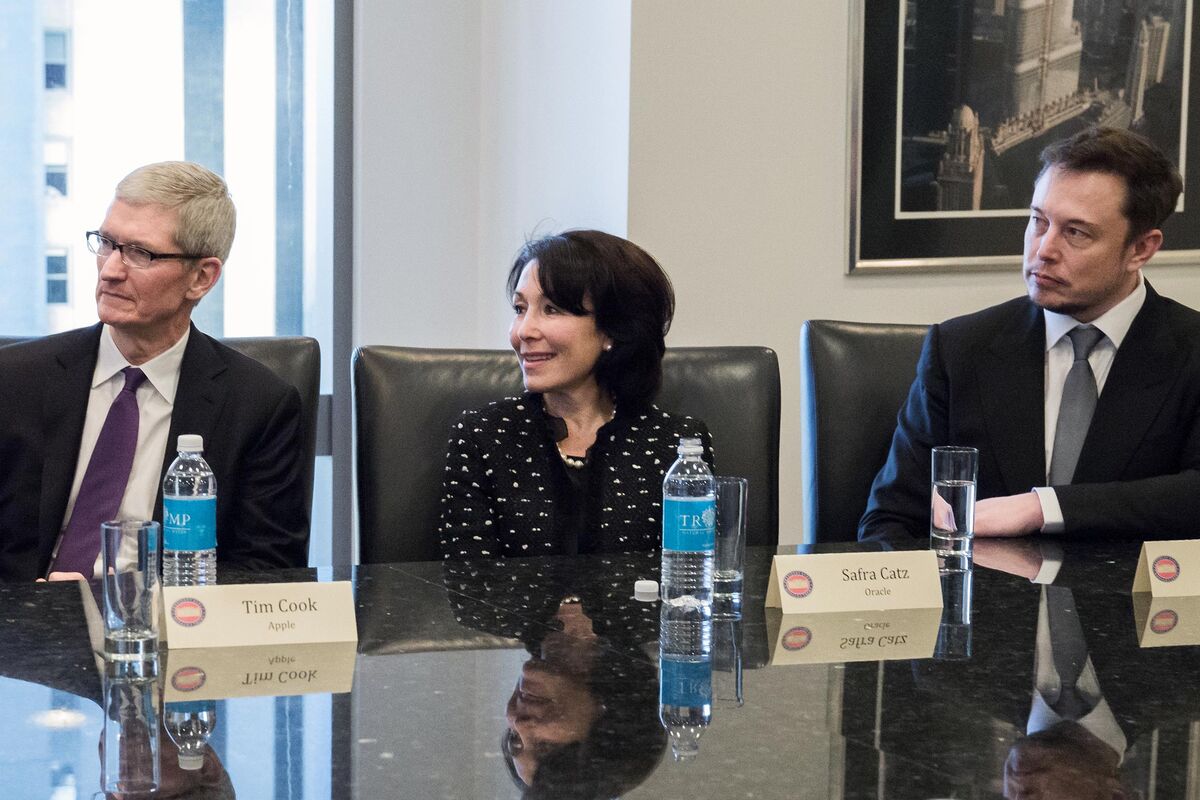 It's tech week at the Trump White House, which means once again we'll watch what's become a ritual humiliation. A dozen or more of the smartest technology executives in America—entrepreneurs known for their wide-eyed idealism and unrepentantly disruptive tendencies—will put on suits, head to 1600 Pennsylvania Avenue, and do everything they can to avoid saying anything that will attract attention of any kind.
The American Technology Council, a presidential group led by senior adviser Jared Kushner that's been tasked with modernizing the government, will convene on Monday. Among the invitees planning to attend, according to Bloomberg : Apple's Tim Cook, Microsoft's Satya Nadella, Amazon's Jeff Bezos, Oracle's Safra Catz, IBM's Ginni Rometty, and Alphabet's Eric Schmidt. According to Recode, Trump tech adviser and contrarian-in-chief, Peter Thiel, will be there, too.
I expect some will privately voice their disapproval of several items on Trump's agenda that cut against views long embraced by the tech community: restrictions on immigration, the rollback of net neutrality rules, and the withdrawal from the Paris climate agreement. A good number of grimaces were visible in photos from the first big tech meeting in December. "I know of exactly two Trump supporters," Marc Andreessen said in a podcast last month, referring to Thiel and Palmer Luckey, the, um, unconventional founder of Oculus. Andreessen implied that any other tech honchos who favor the president are keeping their views secret.
That's not quite right. Today's meeting includes several CEOs who've supported Trump more or less openly. Catz has appeared to embrace Trump at times and was considered for an administration position. She sat on a transition committee and publicly supported Trump's nominee for Treasury secretary, Steven Mnuchin. Other likely attendees who've flirted with the administration include Rometty, Cisco's Chuck Robbins, and Intel's Brian Krzanich.
So what explains why some CEOs have continued to engage with Trump, while others keep him at arm's length? Political influence may be part of it. Intel, Oracle, and Cisco would benefit from a proposed tax repatriation plan. But that explanation isn't entirely satisfying—many of the companies that would also benefit from Trump's tax plans, including Alphabet, Microsoft, and Apple, have been much colder to the White House.
I propose there's a more direct corporate self-interest at play: revenue. To understand why some tech CEOs seem to be at pains to avoid Trump while others aren't afraid to get a little closer, consider their customers. If they're selling to businesses—where buyers are IT departments—then it's a good bet they're willing to, say, play along for a jobs announcement. But Trump's national poll numbers have been so bad—notwithstanding recent presidential tweets—that companies that deal with the general public have to be careful.
Uber CEO Travis Kalanick's decision to accept a place on President Trump's Strategic and Policy Forum in December fueled the #DeleteUber protests in January, which in turn helped send the company into crisis mode in February amid allegations of sexual harassment. Kalanick eventually withdrew from the council under pressure; he's now taking a leave of absence.
Elon Musk, of Tesla and SpaceX, stuck with his position on the same council a little longer, hoping to influence Trump on climate policy and immigration. The association didn't work out so well, prompting a $2 million ad campaign urging Musk to "Dump Trump," some Tesla order cancelations, and many hostile tweets. Musk left the advisory council on June 1, shortly after Trump announced that the U.S. would withdraw from the Paris accord and a day after he tweeted, "I've done all I can" to try to sway the White House.
Musk and Kalanick's experiences will be on the minds of CEOs of consumer-facing companies at the White House today. As they should be. Trump has done a lot of listening to tech executives while more or less ignoring issues those execs care about. Consumers, on the other hand, haven't seemed particularly amenable to arguments made by Kalanick and Musk (and more recently, Cook) that giving advice to the president is an apolitical act.
And so my prediction for Tech Week is this: There will be photo ops. And they will be awkward.