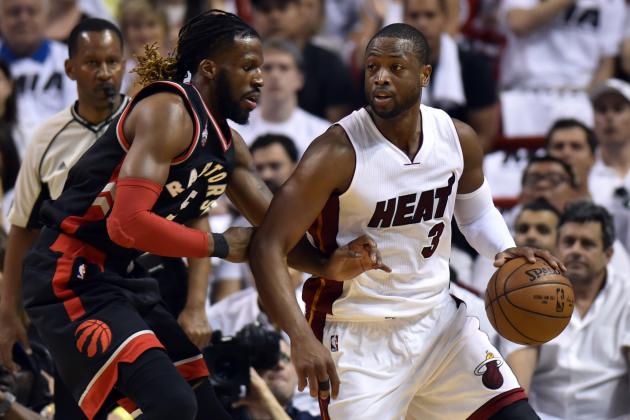 Steve Mitchell-USA TODAY Sports
The stakes for Sunday's Game 7 clash between the Miami Heat and Toronto Raptors are seemingly self-explanatory: winner take all, victory or vacation, etc. etc.
But focusing solely on the 48 minutes ahead—or more, based on how tightly knit this series has been—overlooks the incredible paths behind this contest.
Combine every storyline forged over the past seven-odd months with the ones that will surface Sunday, and both sides are literally bearing the weight of an entire campaign.
"You have to keep playing or the season is over," Dwyane Wade said. "That's the reality of it."
This isn't just about extending a season or witnessing its end. This game will deliver validation to one organization and a litany of questions to the other.
Father Prime, Miami's Resolve and Spo's Acumen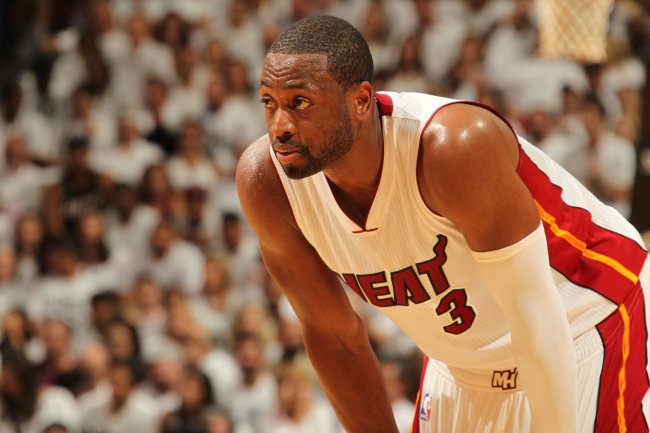 Issac Baldizon/Getty Images
Wade is at a fascinating point of his career: He's no longer the athletic freak dubbed "Flash" during his younger NBA days, but he's still capable of rocking the rim. His stats aren't as outlandish as they used to be, yet he's delivered a pair of 30-plus-point eruptions over his last four outings.
This isn't the best he's ever been, but it's impressive enough that the term "Vintage Wade" has been used to the point of becoming cliche. He's in the gray area between peak and decline, and he even has a name for it.
"Once you get out of this 30-through-34 window, you jump out of that prime," Wade said, per Ira Winderman of the South Florida Sun Sentinel. "But I'm not at Father Time yet. … I'm not 'Flash' no more, so we just came up with a new nickname for me at this point, and 'Father Prime' is what we got."
Can Father Prime carry a club the way Flash once did? His teammates say that's the reason they're still standing.
"He's been putting us on his back," Joe Johnson said after Wade's 30-point performance in Game 4.
But Wade hasn't shouldered this type of responsibility since before the 2010 arrivals of LeBron James and Chris Bosh. And Wade has already followed his most regular-season appearances since 2010-11 (74) with 13 postseason contests.
"Every other day we're playing, and it is very taxing," Wade said.
There's no break in the schedule, nor relief for this injury-riddled roster. Bosh is out with blood clots for the second consecutive year, and Hassan Whiteside said he won't be ready by Sunday (sprained MCL).
The Heat have undergone several reinventions over the course of this campaign, from a big, bruising team to an undersized, speedy one. Their playoff rotation changes by the day—rookie swingman Justise Winslow didn't play in Game 3, then started Game 6—and they've struggled to unearth any consistent scorers outside of Wade.
"I don't think either team looks remotely like they did during the regular season, in terms of style of play," Heat coach Erik Spoelstra said. "That happens in the playoffs. You just have to figure it out."
It's a credit to the Heat that they've advanced this far. They lost James two summers back, Bosh earlier in the season, Whiteside earlier in the series and they're one win away from the Eastern Conference Finals.
But it is fair to wonder if there will be a point when Miami succumbs to the adversity.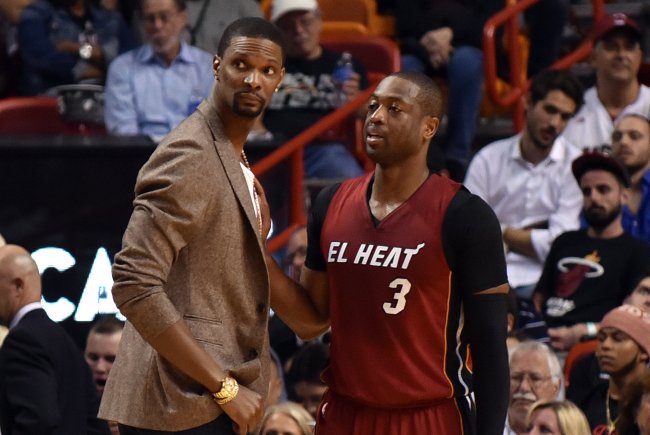 Steve Mitchell-USA TODAY Sports
It's Spo's job to make sure that doesn't happen. It's also his chance to quiet any skeptics who don't hold him as one of the NBA's elite coaches.
His credentials should speak for themselves. He's made four Eastern Conference Finals and won a pair of world titles as his head coach. His .623 career winning percentage ranks seventh among NBA coaches with 500-plus games under their belt, and his .625 playoff winning percentage is third out of those with at least 100 games.
But, as any Spoelstra critic would quickly point out, a lot of that success came with a star-studded roster. This run is obviously different. While it may not deliver the prize of previous runs, winning on this stage with this depleted roster would be a true testament to his coaching acumen.
"To me, to take this team and have them play the way they do offensively and defensively, when they've had to do it on the fly…you're talking two years removed [from James leaving]," Charlotte Hornets coach Steve Clifford said in the first round.
"Just from a pure coaching standpoint, it's really incredible what he's done."
All-Stars' Credentials and Toronto's Legitimacy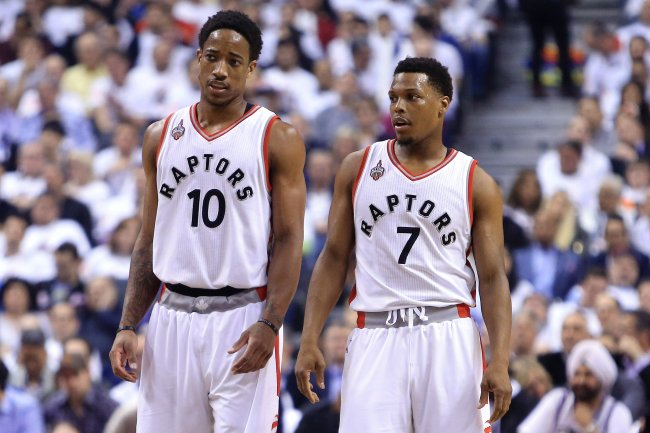 Vaughn Ridley/Getty Images
Only two teams sent their starting backcourts to this season's All-Star Game. The defending champion Golden State Warriors were one, and the Raptors were the other.
That fact has been hard to remember as both Toronto guards have struggled mightily to find postseason form. Even after combining for 59 points in each of the past two games, their playoff stat lines still lack both the quantity and quality of their regular-season marks.
Each kept insisting it was only "a matter of time" before the numbers returned to their normal position. And, based on what they've shown of late, maybe they were right.
But the hoops world needs to see these two will their team to a do-or-die victory. The pair couldn't keep the Raptors from suffering first-round upsets over the last two years. And neither showed particularly well during Toronto's Game 7 win over the seventh-seeded Indiana Pacers, combining for 41 points on 46 shots.
Still, this offense always starts—and sometimes stops—with the stars. Lowry and DeRozan are clearly gifted scorers, but those talents must surface under the brightest lights.
"We'll definitely need the backcourt to play well," Cory Joseph said.
A Game 7 win could be validation for the breakthroughs enjoyed by Lowry and DeRozan, who both set personal bests in player efficiency rating this season. But this is much bigger than the backcourt. It's an opportunity for the entire organization to progress and prove its place among the upper-echelon teams.
"We're confident," Patrick Patterson said. "We're still learning. … We're still playing basketball, and we have an opportunity to go home and finish another series."
It would be uncharted territory for the Raptors—this group already holds the franchise record for regular-season victories (56) and postseason triumphs (seven).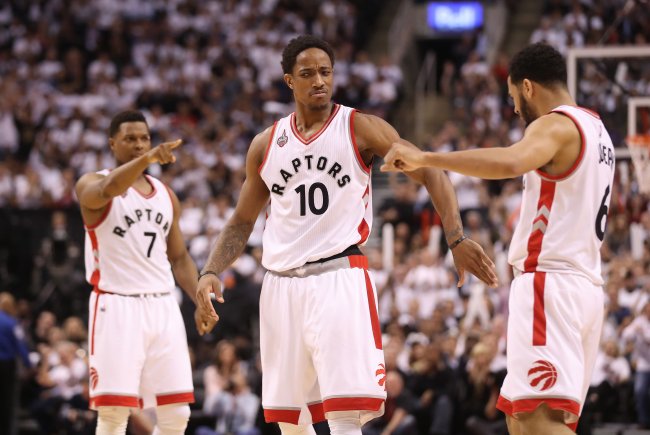 Tom Szczerbowski-USA TODAY Sports
But Toronto still needs more to legitimize this campaign.
Remember, the Raptors came painfully close to breaking this core apart, nearly trading Lowry in 2013, then giving him a four-year, $48 million contract the ensuing offseason. They've stuck with coach Dwane Casey through the playoff failures, despite his seemingly annual appearances on hot-seat lists. They've pursued win-now pieces, while some promising prospects are forced to wait their turn.
And they look correct for doing all of the above. Their plus-4.3 net rating ranked sixth overall, and their 56 wins were the fourth-highest. But their future dims a bit, and this breakout loses some luster, if they can't close out a second-round series with their own fans behind them.
"It's Game 7 on our home court with our home crowd," DeMarre Carroll said. "What better place do you want to be?"
Who Has More at Stake?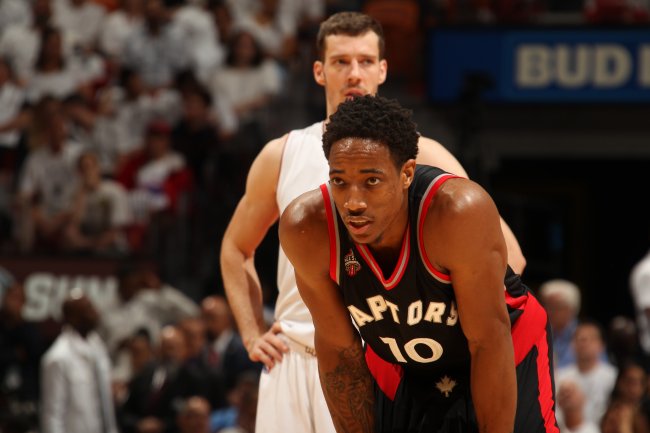 Issac Baldizon/Getty Images
Based on their respective playoff track records, it's no surprise the Heat emerged as a trendy pick for this series. But they're not the ones shouldering the most pressure.
Toronto has its best two players available. Miami doesn't. The Raptors' injury issues are largely matched by the Heat. There's no Jonas Valanciunas, but there's no Whiteside, either. Carroll is battling a sore wrist, and so is Luol Deng.
Who will win Sunday's Game 7 showdown?
Submit Vote vote to see results
Who will win Sunday's Game 7 showdown?
Miami Heat

Toronto Raptors
For all the blows it's been dealt, Miami is playing with house money. As far as Game 7 is concerned, Toronto is the house.
Even with the mighty Cleveland Cavaliers looming, this could be an organization-defining victory for the Raptors. Not to mention, it would make one heck of a sales pitch to DeRozan as he enters unrestricted free agency.
"We played all year to get 56 wins and get the two seed in the East," Lowry said, "and we get home court for this type of situation. This is going to be fun."
All quotes obtained firsthand, unless otherwise noted. Statistics used courtesy of NBA.com and Basketball-Reference.com.